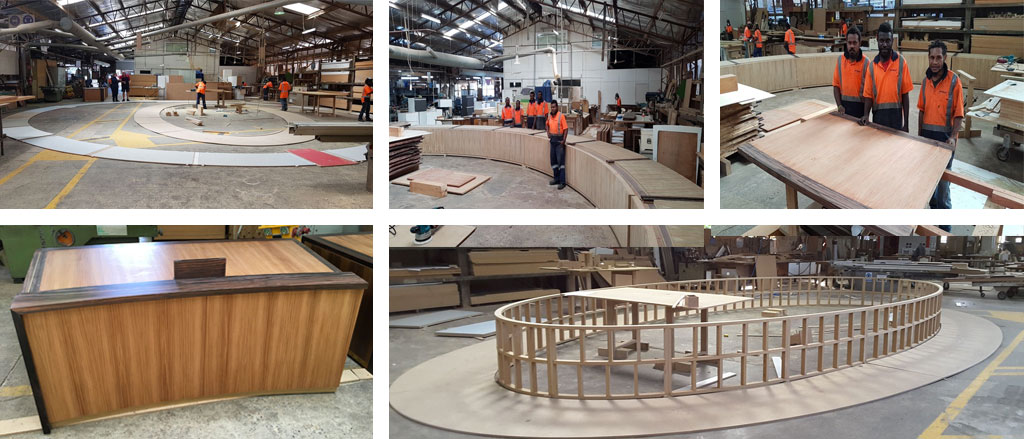 Top (L) Table templates in workshop (M) John – front and his team in background and (R) Fidelis – centre and his team. Bottom (L) Sample segment of the Leaders Meeting Table (R) Constructing the Leaders Lunchroom Table.
The APEC Summit Leaders Meeting Room Table and Leaders Lunchroom Table are important design elements of APEC Haus. It was important to the Prime Minister of Papua New Guinea that APEC Haus showcased the beautiful timbers of Papua New Guinea in the design and manufacture of the tables. It was not only important to JFA and the client representative (OSL) that sustainably sourced and selected Papua New Guinea timbers be chosen but that where possible the tables should be made in PNG.
Three joinery companies were approached by OSL.  Two of the joinery companies were based in PNG and a renowned joiner of significant furniture pieces was based in Australia.  Each were invited to tender and submit a segment sample piece furniture for evaluation. OSL and JFA reviewed the work of the joiners and the contract was awarded late in 2017 to the joinery workshop division of Fletcher Morobe Construction Limited in Port Moresby.
With a furniture completion date set at the 21st of May 2018, Mr. Gary Chapman the Manager of Fletchers Joinery Workshop, divided his team into two groups. Commencing early January 2018, the team cut the table templates and started to put together the pieces. The tables were designed by Jim Fitzpatrick Architects in conjunction with Conrad Gargett. The Leaders Meeting Table comprises of 21 segments with a circumference of 15.58m and the Leaders Lunch Table has 18 segments and is designed as an oval shape spanning 12 metres long by 7 metres wide. The Leaders Meeting Table is made from solid Papua New Guinea Teak with polished PNG Queen Ebony timber edges and brass trim. The Leaders Lunch Room Table is made from PNG Red Rosewood with Queen Ebony timber edges.
The two teams were headed by Fletchers experienced joiner's, Mr John Wetty (charged with the Leaders Meeting Table) and Mr Fidelis Duaku, a fourth year Madang Technical College apprentice (charged with the execution of the Leaders Lunchroom Table). Mr Fidelis Duaku was also placed in charge of the main entry wooden feature screen of APEC Haus. The contemporary design of this screen including the difficult task of placing various segments together to form the curved shaped screen. Fletcher Morobe Construction Limited's joinery team worked tirelessly to deliver these special projects and the incredible workmanship can be seen in the final products.