(L) Pryde Furniture with a Leaders Meeting Room door (R) Leaders Meeting Room Lakatoi Ceiling Tiles.
A few other noteworthy features found in APEC Haus include the following:
The striking doors for the Leaders rooms of APEC Haus were made by another Papua New Guinea company. Pryde Furniture in Port Moresby were commissioned to manufacture the doors. Made from PNG Kwila, the main doors feature a radial cut design and brass crescent shaped handles. The interior wooden batons and reveals that grace most of APEC Haus are also made from PNG Kwila. They were manufactured by an Australia based company (Woodform Architectural/Sculptform) and were installed by the team at Pryde Furniture.
The wooden ceiling tiles located in the Leaders Meeting Room feature the lakatoi tattoo motif pattern and are made from PNG Teak. They were also made and installed by Pryde Furniture.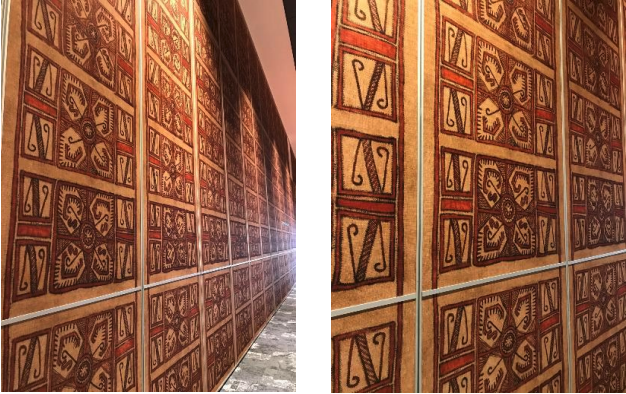 (L,R) Operable walls in APEC Haus feature reproduced Oro Tapa in the fabric.
The pattern found on the operable walls throughout APEC Haus was achieved by working with the team at the PNG National Museum and Art Gallery (NMAG). NMAG staff identified an important Oro Province Tapa from their collection. The tapa was photographed with a high-resolution camera and the image was printed onto fabric before being manufactured into operable walls by Hufcor.